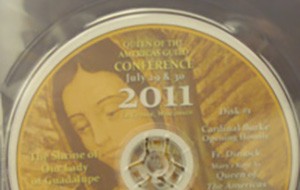 Click to view full image(s)
2011 Conference at the Shrine of Our Lady of Guadalupe, La Crosse, Wisconsin
2 DVD Set contains the following:
Cardinal Raymond Burke – Keynote address – "The Rosary: Looking Upon the Face of Christ"
Cardinal Raymond Burke – Homilies from the two conference Masses
Bishop Joseph J. Madera – The Tilma Image: An Early Catechism
Fr. Giles Dimock – 2 talks covering Mary's role as Queen of the Americas and Queen of the Rosary
2 DVD Set – $20.00
Also available – each day's talks on a separate DVD
DVD #1 includes Cardinal Burke's opening homily and Fr. Dimock's first talk.
DVD #2 includes Cardinal Burke's keynote address, 2nd homily, Fr. Dimock's second talk, and Bishop Madera's address.
DVD 1 – $10.00
DVD 2 – $10.00